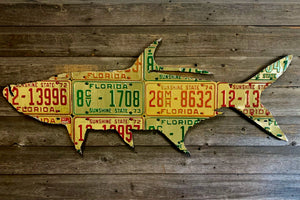 Florida Tarpon 1970s Vintage License Plate Art - Ready-To-Ship
Cody's Fish
Regular price $650.00 Sale
The Silver King, a species near the top of every angler's fishing 'bucket list'.  Vintage Florida plates are akin to the sepia-toned pictures of the 1970s.  These fish have brought me all over the world with a 12 weight in hand, and consume my thoughts daily.  These pieces are perfect for the tarpon-obsessed anglers everywhere!
Every license plate art piece is handmade and is unique. Yours will look very similar but will not be exactly the same as the photo example.

Vintage Florida plates are extremely rare as Florida does not require a front and rear plate to be displayed. The colors are unique and highly sought after. Be sure to have your's made before these plates are all gone!
Tarpon are 48" x 20"