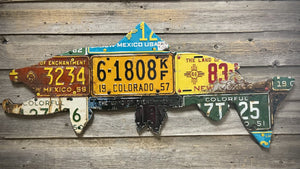 42" Custom Mix Brown Trout
Cody's Fish
Regular price $450.00 Sale
Sometimes you want your own mix of states.  We love doing your meaningful artwork or even adding your personal plates.  Choose up to 4 states (modern or antique) and we will custom-make to your specifications. Unsure of options, check out other fish/sizes for ideas. 
My popular brown trout silhouette is now in a smaller size.  Perfect for offices, dens, sporting rooms, or as a compliment to the jumping rainbow silhouette.  Every license plate art piece is handmade out of authentic license plates.  Yours will look very similar, but will not be exactly the same as the photo due to the individual plates.
All 42" brown trout measure 42 x 20 inches.
Please allow 3-4 weeks for creation and delivery.  Contact me with rush orders.
Framing:
"No-Frame" - All of my pieces are built by wrapping license plates around 3/4-inch wooden base and are ready to hang straight out of the box.  Each comes with pre-fitted and reinforced hanging wire, so you can mount the piece however you feel in your space.
"With Frame Add-On" - While my pieces look amazing hung without a frame, I feel that mounting the artwork on barnwood really adds definition and depth, and perfectly compliments aged license plates.  Should you choose to have your piece framed, please specify whether you would like espresso-stained or natural barnwood as the background in the "Special Notes and Requests" textbox prior to adding it to your cart.  Barnwood is 'mined' from old Colorado structures and hand cut/sanded, so please allow 10-12 weeks for completion.