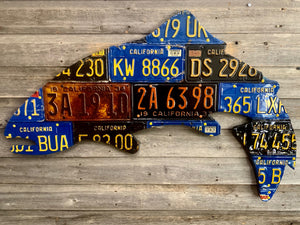 California Large 4-Foot Trout
Cody's Fish
Regular price $850.00 Sale
A mainstay and 'pretty boy' of fishing in the USA, trout are where most of us cut our teeth with a fly rod in hand.  Whether you're fishing for them in the Rocky Mountains, Appalachians, or local secret stream, it's hard to beat the feeling of chasing wild trout in wild places.  When the average trout is not enough, these blue and black large trout are a true standout.
Extra-large trout, 4-feet wide.
Please allow 3-4 weeks for creation and delivery. Contact me for rush orders.
*Before placing your order please specify in the notes text field three to five states that you would like included, as well as the state you'd like represented in the center.
Framing:
"No-Frame" - All of my pieces are built by wrapping license plates around a ¾-inch wooden base and are ready to hang straight out of the box. Each comes pre-fitted with reinforced hanging wire, so you can mount the piece however you feel in your space.

"With Frame Add-on" - While my pieces look amazing hung without a frame, I feel that mounting the artwork on Barnwood really adds definition and depth, and perfectly compliments aged license plates. Should you choose to have your piece framed, please specify whether you would like Espresso-stained or natural barnwood as the background in the "Special Notes and Requests" textbox prior to adding it to your cart.